Indigo: The young busker with a huge heart.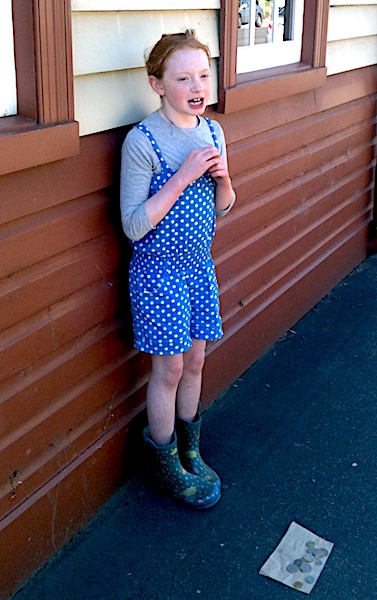 A few months ago one of our Directors was discussing the Angatunyo Girls project with their young family, explaining how something as simple as purchasing a sewing machine can be enough to protect a teenage girl in Uganda from a forced marriage. 
Indigo is a bit shy by nature, but her strong convictions compelled her to action. Hearing her mum's story, she found a prominent position in the main street and started singing songs she composes herself, determined to raise enough money for one sewing machine to help girls on the other side of the world only a few years older than herself who are being bullied into unwanted marriages for the sake of a dowry.
Even at 9 years of age Indigo realises how fortunate she is to enjoy the freedom and opportunity of life in Australia and has a sense of responsibility to stand with those not so fortunate.
A few days ago Indigo's parents transferred $208 AUD that Indigo has raised to purchase a sewing machine for the Angatunyo Girls Project in Uganda 
Thanks Indigo!
When I told Carol, the Director of the Angatunyo Project, what Indigo had done, she was very excited. But she also told me that what the program really needs most is an overlocker machine. It costs $740 AUD. The Angatunyo girls will use it to make school uniforms and dresses for sale.
So now Indigo is aiming to raise enough to purchase an overlocker. She needs an extra $530.
Will you help?
---
Angatunyo Girls is a micro-enterprise project that provides teenage girls with a vocation, enabling them to remain in school and become financially independent. Simple micro-businesses such as sewing uniforms for the local schools, making yoghurt and baking bread have potential to be life changing for girls who would otherwise be forced into a marriage arranged by their relatives.
Angatunyo is the word for lioness in the Teso language of Amuria in north east Uganda. The name conveys the strength of independent young women being developed through the project and challenges perceptions of inferiority. 
Click here for more information on the project and how you can donate.