Education, Health Care and Earthquakes in PNG
The Soil Child program has made remarkable progress in 2018 despite extreme challenges.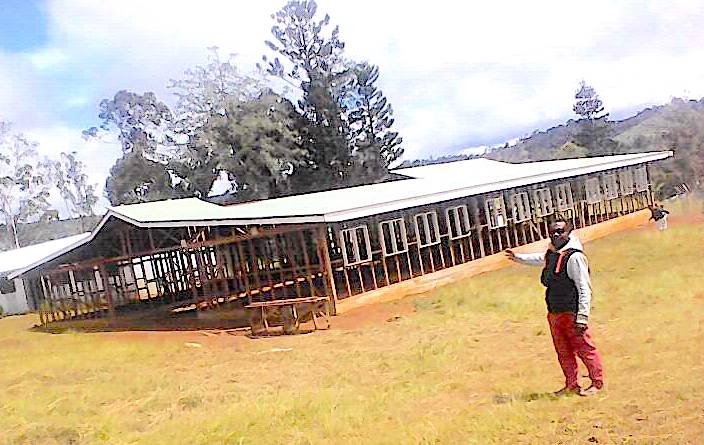 Soil Child is a community development program designed to break the on-going cycle of systemic poverty in Papua New Guinea. The goal is to develop a model that can be replicated by any community in PNG that desires to provide future generations with access to education, health care, employment, gender equality and improved child nutrition.
It has been a very busy year for Soil Child, and despite incredible obstacles the project has made great progress.
Education
One of the Soil Child goals is to provide access to primary education in remote areas. This year, Soil Child has constructed a brand-new school and library in the highlands village of Dauli, with funding from the TX Foundation in Taiwan. This new building has a very contemporary design and has eight rooms for the Dauli Demo Primary School. The project is very nearly complete and will have an official opening in early 2019. This school will become the centre for more than just primary education, it will be the hub of the Soil Child strategy. People will have access to information through books and computers about agriculture, nutrition, gender equality, economic development and much more. This learning centre is a huge step forward, allowing future generations access to valuable, life changing information.
The health program
Another goal for the Soil Child program is to develop the health system and increase access to health care. Last year Soil Child applied to receive medical equipment from the old Royal Adelaide Hospital to be sent to the PNG highlands where medical facilities are critically under-resourced. Soil Child received those supplies in February and they were stored in a warehouse provided by charity Kokoda Angels. The equipment has been shipped to PNG, and is in the port of Lae ready for transport and distribution to the recipient medical facilities. Shila Yukuli Paia, head of the Soil Child project, is currently in PNG to oversee the delivery and installation of the equipment. This program has been supported by the South Australian Intensive Care Association.
The earthquake
Before this year the need for health care and education was great but on the 26th of February 2018, a disaster struck. A 7.5 magnitude earthquake devastated central PNG and its people. The earthquake set off a chain reaction of mud and rock slides across the remote mountain region, cutting off the many isolated communities from any kind of assistance. Many supplies, such as clothing and blankets, were donated to the survivors of the earthquake. These supplies were added to the shipping container of medical supplies and are now on their way to the highlands, to those that need them most.
Despite the significant challenges, Soil Child has made remarkable progress in addressing chronic poverty. Project leader Shila Yukuli Paia will provide more detailed updates on her return to Australia.