Masks Can Save Lives
320 primary children receive masks in Ulaanbaatar, Mongolia.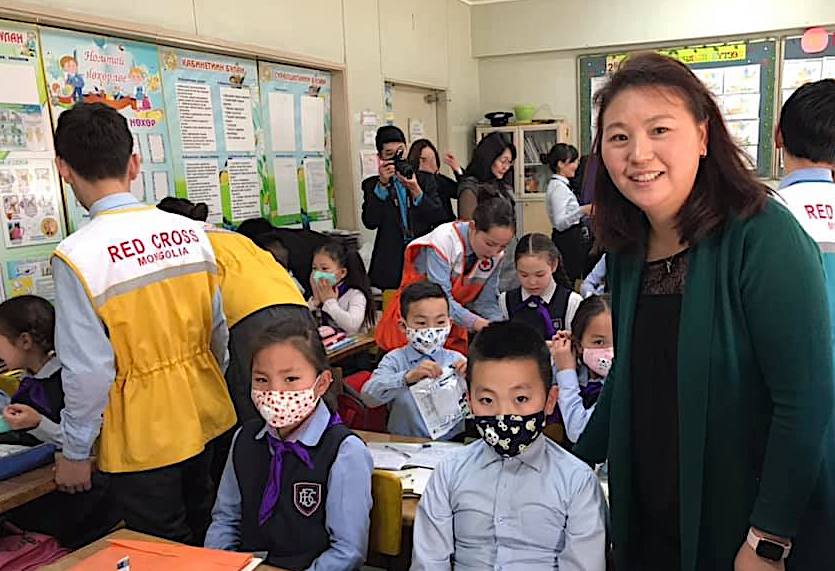 Photo: Munkhzul Chimid-Ochir (Zula) with one of the classes receiving masks.
The first phase of the Clean Air project in Mongolia has been successfully delivered, with 320 students receiving masks to protect them from the city's toxic air pollution.
Each year in Ulaanbaatar it is estimated 1500 adults and 120 children die as a result of air pollution. Climate change has made the semi-nomadic lifestyle of livestock graziers unviable, and their subsequent migration to makeshift suburbs on the edge of Mongolia's capital is the cause of the pollution. Burning coal in their ger tents for heating in the winter produces one of the world's worst cases of pollution.
Zula has a vision to address this crisis.
While studying for her Masters degree in Environmental Management at Flinders University, Zula approached Fulcrum Aid with a request to address the causes and consequences of toxic air pollution in Ulaanbaatar. An immediate and simple intervention is to provide children with face masks to filter the contaminants.
The masks have been distributed to students in the Songinokhairkhan district, located in the most polluted area of the city. Each class was provided information on the benefits of wearing the mask by Professor Delgerzul from the School of Public Health, Mongolian National University. The distribution was supported by Australian Awards scholars and Red Cross volunteers at the school, and the school doctor has agreed to monitor and evaluate the health benefits of wearing masks.
The longer-term solutions Zula and her team are exploring aim to reduce the pollution source by finding alternative technologies to the current practice of burning coal. The Mongolian Government recently introduced legislation to prohibit the burning of raw coal in Ulaanbaatar. However, this will require rigorous actions to implement. One possibility being explored is a chemical treatment of the coal that reduces toxic emissions significantly. The Government needs to conduct research before trailing commences. Also, it is important to increase other countries' support to convert abundant coal resources into environmentally friendly, non-polluting heating and to promote renewables such as solar and wind farms. This will be the next phase of the Clean Air project.
The students and school administrators conveyed their appreciation to supporters of the Clean Air project in Australia, including Flinders University and the Mongolian students.