Research and Dialogue for HIV+ Children
A recent consultation in Dhaka has drawn together the key agencies working with HIV affected children in Bangladesh.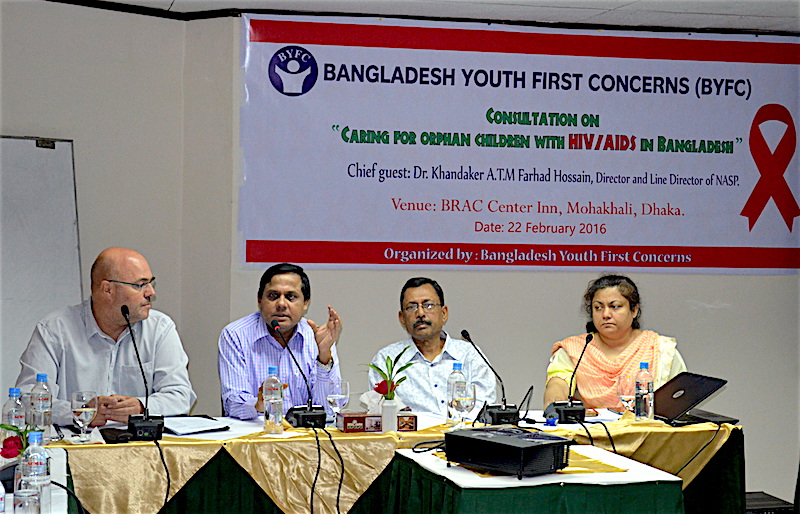 Bangladesh Youth First Concern (BYFC) initiated the consultation to guide the process of establishing a program for isolated HIV infected children in Bangladesh. The Chief Guest, Dr Md Anisur Rahman, representing the National AIDS/STD Plan, stressed the need for models of care based on best practice, and a coordinated strategy of all service providers.
The keynote presentation by Dr Saima Khan (Acting National Director of UNAIDS) provided current global and national data on HIV/AIDS. She noted that the global HIV infection rate of children fell by 58% from 2000 to 2014, with 32% accessing treatment - a significant improvement from just 14% in 2000. The prevalence of HIV infection remains low in Bangladesh with less than 0.1% of the population being HIV+. Amongst drug users who inject, the prevalence rises to 5.3% and other high risk sectors of the population include fly-in-fly-out workers. Dr Khan reported there were no recorded cases of mother-to-child infections in the past 12 months. The number of HIV+ children in Bangladesh remains low – currently estimated to be about 300 – however Dr Khan warned that these children face high risk of social isolation, stigma, deprivation from health care, education and basic needs such as food, shelter and emotional support. In several cases relatives had claimed the land belonging to children whose parents had died of AIDS.
Despite the risk of stigma and abuse Dr Khan strongly advised that children orphaned through HIV/AIDS should be cared for in their communities wherever possible. Ms Habiba Akter, the founding Director of Ashar Alo Society agreed, saying HIV+ children shouldn't be given the "double trauma" of being taken from their communities, having already experienced severe losses. However she noted that declining resources were making their task increasingly difficult.
Dr Peter Halder and Mr Apurba Sarker presented the plan of BYFC to establish a program for isolated children infected with HIV who are not being catered for under current programs. Children who have fled or been driven from their communities face extreme risk and will be the highest priority for BYFC's program. Fulcrum Aid is partnering with BYFC and will provide research, support in project design, advocacy and fundraising.
Photo: From left, Steve Blacket (Fulcrum Aid), Dr Md Anisur Rahman (NASP), Dr Ratu Saha (BYFC) & Dr Saima Khan (UNAIDS).