Thanks to Kokoda Angels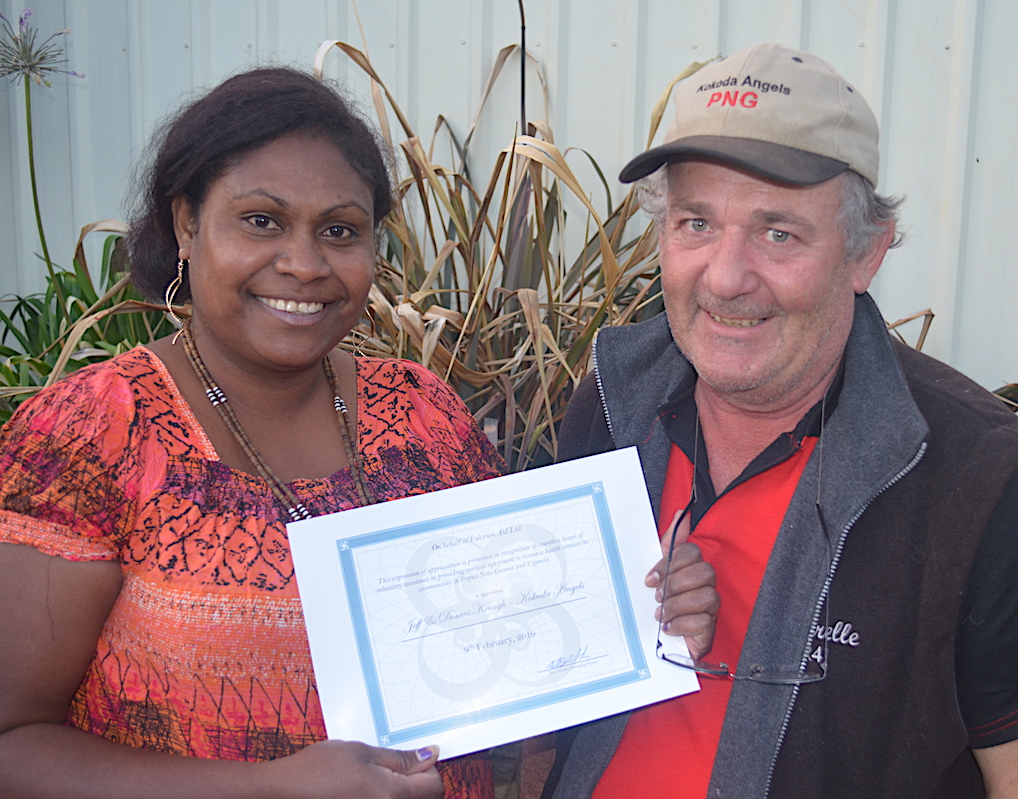 Photo: Dorcas and Jeff Keough receiving a certificate of appreciation from Fulcrum Aid.
During 2018 Fulcrum Aid developed a strong partnership with Kokoda Angels as we worked together to source, sort and deliver seven shipping containers of medical equipment, educational resources and earthquake relief to Papua New Guinea and Uganda.
Kokoda Angels is a local charity run by Jeff and Dorcas Keough who for the past decade have provided medical support, emergency relief and education resources to communities in PNG. Through the charity Jeff was able to secure the use of a warehouse at Hackham that became the storage and distribution hub for several relief projects, including two from Fulcrum Aid. The Soil Child program has sent one shipping container of medical equipment and earthquake relief to the highlands of PNG and has one more container planned to be shipped later this year. Another 40 foot container of medical supplies is being sent to Lira in the north of Uganda. The two project leaders, Shila Yukuli Phopo and John Nelson Opio coordinated teams of volunteers to help move, sort and pack numerous truck loads of equipment.
Finally, a few weeks ago, the warehouse was emptied and we took the chance to say thankyou and celebrate the end of a productive and challenging project.
Jeff and Dorcas established Kokoda Angels just over ten years ago following the death of one of their friends at Kokoda in PNG. She died of malaria, which could have been easily treated if there was transport and medication available. The charity has since provided two ambulances based at Kokoda and has secured five acres of land for a marine medical base at Alotoa. Kokoda Angels is currently working on providing transportable emergency clinics, complete with solar water makers, that can be used for quick response to medical emergencies anywhere in PNG.
Even before Kokoda Angels was established Jeff was actively involved in humanitarian work in PNG, on one occasion sailing his yacht between two erupting volcanos to rescue 84 people who had missed the evacuation. 
Jeff and Dorcas worked tirelessly and at their own expense to complete the projects. They asked to publicly thank Mario Bollelo for his generosity in providing the warehouse, and CMV Group for the use of a truck. Much of the medical equipment was sourced from the old Royal Adelaide Hospital, donated by SA Health and facilitated by Rotary Donations in Kind.
Dorcas said "It has been amazing. This equipment will help thousands of people. For many people, they have to walk through two villages to get to a clinic. When they get there they don't even have panadol. It can take months for medical supplies to come. But we also want to provide cocoa dryers so people can start generating their own income. We want people to be able to help themselves."
Jeff summed it up: "They didn't forget us when we needed help, and we shouldn't forget them now. We just want to keep this going."
You can 

This email address is being protected from spambots. You need JavaScript enabled to view it.

 to discuss supporting Kokoda Angels:
Donate, or call to discuss a business sponsorship
Provide administrative assistance
Join a work team that will rebuild a medical aid-post and nurses accommodation at Kokoda